Jake Updegraff's Top 25 Songs of 2011
Yes, I'm doing it. I will be counting down my favorite songs from 2011. Be thankful.
Click here to listen to my top songs of 2011 on SPOTIFY!
25. Remind Me – Brad Paisley ft/ Carrie Underwood
"I felt bad cause you missed your flight, but that meant we had one more night."
[Watch Video]
I'm not going to lie, I'm not sure if this song would have made it if Carrie Underwood was not featured in it. However, I must say this song is pretty great. Such a great country ballad that many can relate to. Paisley and Underwood sound incredible on this track and delivered a solid country track that many will remember forever.
24. Domino – Jessie J
"Dirty dancing in the moonlight, take me down like a domino."
[Watch Video]
The guitar at the beginning will hook you the first time you hear it. The catchy UK-pop tune has a ring to it that will put anyone in a good mood when they listen to it. Jessie J is a very talented singer from the UK and has finally made it big in the U.S. after using Youtube to get her out there. Check out the track & you will fall in love.
23. Breathing – Jason Derulo
"Without your love, I don't know how I survive."
[Watch Video]
One of Derulo's best songs (definitely no "Whatcha Say"), but this song was a car rockin', pre-funk anthem of 2011. The beat and falsetto voice Derulo hits in the middle of the song will get your head rocking. Derulo keeps proving himself on the charts... and we all thought he was going to be a one-hit wonder...
22. Good Life – OneRepublic
"To my friends in New York, I saw hello. My friends in L.A., they don't know."
[Watch Video]
This is another song that uses whistling... maybe that's a new trend? I think a part of me loves this so much because it was used in that amazing, fantastic, incredible, flawless movie called Easy A. Have you heard of it? Of course OneRepublic might not top "Apologize" ever... but this one sure makes listeners be grateful.
21. Right There - Nicole Scherzinger ft/ 50 Cent
"When he throw that bone attcha do you bite back?"
[Watch Video]
I've never been a huge fan of Scherzinger, but this song is one of my favorite workout songs. I fell in love before I even knew she was the artist behind this monster track. It's so sexual... which makes it that much better. The lyrics are great even if she repeats herself 10 times.
20. If I Die Young – The Band Perry
"Funny when you're dead how people start listenin'."
[Watch Video]
This is probably one of the most depressing songs of the year yet it's so captivating and catchy that you appreciate it. Now, I like the original country version… not this "try to make it pop" shit. It makes you wonder what you want to happen when you die... depressing, right?
19. You Make Me Feel – Cobra Starship ft/ Sabi
"I'm the baddest baby in the atmosphere."
[Watch Video]
Never did I think Cobra Starship would make another hit since 'Good Girls Go Bad', but they proved my ass wrong. It features Sabi who is also in a smash song on Britney's Femme Fatale CD 'Drop Dead Beautiful'. This song makes me feel so drunk… even when I'm sober.
18. Pray – Justin Bieber
"I lose my appetite knowing kids starve tonight."
[Watch Video]
Bieber Fever has not only taken over 2009, 2010, but also 2011… and I'm sure he will dominate 2012 as well. Bieber is the sh*t and whether you want to admit it… it's true. Pray is one of his most compelling songs he's sung and it's one of my favorites by him.
17. Fly – Nicki Minaj ft/ Rihanna
"Try to forgive you for abandoning me."
[Watch Video]
You can't put two divas (who have dominated 2011 billboard charts with their singles) on one track and not expect it to be epic. Fly is a feel song that will empower you right at the beginning. The beat, vocals, and rap established in the song is why it's so amazing.
16. Next 2 U – Chris Brown ft/ Justin Bieber
"I'll be there when you're insecure."
[Watch Video]
The idea to put these two on a track was pure musical genius. Both sound incredible on the song and will most likely make the girls listening go crazy. Though… toward the end of the song, is it just me or do that "oh na na's" sound like Brown's ex - Rihanna's 'What's My Name'?
15. On The Floor – Jennifer Lopez
"Dance the night away, grab somebody drink a little more."
[Watch Video]
This next artist should thank American Idol for saving her career. This track was one of the biggest songs of the year (look at those Youtube hits). She's had a rough year personally, but success wise, she's got nothing to complain about.
14. Set Fire To Rain – Adele
"My hands, their strong, but my knees were far too weak."
[Watch Video]
To me, this song puts 'Rolling In The Deep' on the back shelf. I can never get tired of this song. There is so much passion to this song and you can tell. Adele is without a doubt the leading lady on the charts of 2011 and she deserves it. So so talented!
13. Disaster – Jojo
"No happy ever after, just disaster."
[Watch Video]
Jojo is one of those artists that I always look forward to. She's so gifted and her songs always fit my needs. Disaster is a great pop song that any girl (or guy) can relate with. You can tell she's talented just by this track. It's incredible.
12. You & I – Lady Gaga
"Muscle cars drove a truck right through my heart."
[Watch Video]
I've hated this song (there were a few versions before her 2011 release), but it was until this year I grew to love it. It's a different song from Gaga and any other song out now. It's got that rocker-gone country seasoned with pop to it. Not many can pull that off… unless you're Gaga.
11. Smile – Avril Lavigne
"You stole my heart and you're the one to blame."
[Watch Video]
I'm not, nor have I ever been, a huge fan of Lavigne… yet I like a lot of her songs. This song is one of them. The chorus is what sucks me in. It makes me want to find love. I want to find someone to make me smile. Where is he? (I also appreciate the "last night I blacked out I think" since I can relate.)
--
THE TOP 10
--
10. Firework – Katy Perry
"Just own the night, like the fourth of July."
[Watch Video]
Firework was one of the biggest songs of the year. It was not only doing really well on the billboard chart, but also in every commercial you saw on TV. The song is an inspirational song by Perry and she said it was her favorite. While I do think this song is one of the best of the year (I mean I put it at #10) she still has another song (maybe two) that made it further on the countdown. Any ideas?
9. Edge of Glory – Lady Gaga
"I need a man that thinks it's right when it's so wrong."
[Watch Video]
Whenever I hear the beginning of this song, I instantly love it and cannot skip it or change the station on the radio. The chorus and verse(s) on this song are addicting. Yes, I'm addicted to being on the edge of glory. Gaga's album this year was a smash selling over a million albums and she deserves the success she has received. She's for sure talented and might make one more appearance! ;)
8. Superbass – Nicki Minaj
"When he give me that look than the panties comin' off."
[Watch Video]
If any artist was to get best new artist of the year, it should go to Nicki. She has not only been featured in many songs that have been successful, but many of her own songs has made he reach the A-list. She just toured w/ the Queen of Pop Britney Spears and I'm sure she will only keep rising.
7. Marry The Night – Lady Gaga
"I'll hold my whiskey up high. Kiss the bartender twice."
[Watch Video]
Yes, this is the third time Gaga has been on my countdown. This is by far my favorite song from her of 2011. The first time I played it when I got her album last May, I was hooked. It's been my favorite and I've said since listening to it that it needs to be a single. I'm glad Gaga made the brilliant decision to do this. It's got a bit of 80's & 90's feel to it while making it electric. Who needs love when you can marry the night?
6. Moves Like Jagger – Maroon 5
"Take control, own me just for the night."
[Watch Video]
If there is one song I have to pick that can put anyone in a good mood, it's this one. Maroon 5 never fails to deliver a smash hit and this one maybe one of their best since their debut album, Songs Like Jane. It features the talented Christina Aguilera (who is on The Voice with lead singer Adam Levine). The only thing is, I don't dance like Mick Jagger when I hear this… will that be an issue?
Top 5
5. Give Me Everything Tonight – Pitbull ft/ Ne-Yo, Afrojack, & Nayer.
"I'm an American Idol, get money like Seacrest."
[Watch Video]
I will never, ever, ever get tired of this song. I'm literally obsessed with it and every time I hear when I have had a few (who am I kidding… A LOT) to drink, I flip shit. It is my one of my favorite, if not, my favorite party song of the year. Ne-Yo's part in the song is my favorite… he's got incredible lyrics. The beat, the arrangement, its pure club banging perfection.
4. Last Friday Night - Katy Perry
"It's a blacked out blur, but I'm pretty sure it ruled."
[Watch Video]
This is by far my favorite Katy Perry song she's ever done. If I could tie the next top 4 songs at #1 I would. I will never be able to express how much I love this song and the way I feel when I hear it. Every time I hear the lyrics, I wish it was a Friday night so I can experience the lyrics and energetic theme to this song. Not to mention the video is pure 80's genius. Now who wants to get drunk?
3. Enchanted - Taylor Swift
"Please don't be in love with someone else."
[Watch Video]
This has got to be one of my favorite songs my ears have ever been blessed with. I've probably overplayed this song for all my friends & their friends & their friends. Yes, I'm OBSESSED!! This song makes my heart weep for love and all those boys I've been enchanted to meet. The lyrics are so romantic that any girl that listens will have their heart melted. It's so enchanting... I'm in love.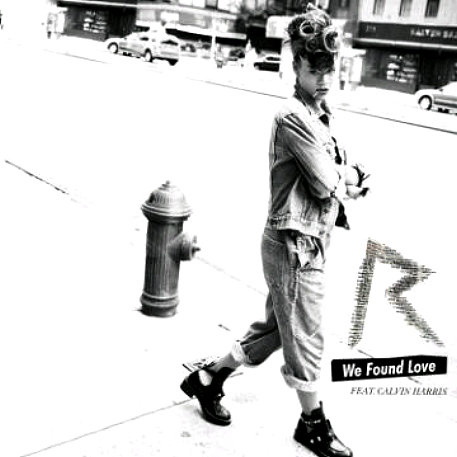 2. We Found Love - Rihanna ft/ Calvin Harris
"We found love in a hopeless place."
[Watch Video]

Rihanna can never do bad in my eyes. This is probably her best and most successful single yet. It's been #1 on billboard for weeks and it totally deserves it. The club anthem really makes me want to party and I can play it on repeat for days & days. Her album is just as amazing as this track and it definetly deserves the title it got on my list as the #2 song of 2011. I'm ready to find love in a hopeless place.
And the #1 song of 2011 is...
1. Till The World Ends - Britney Spears
"Come on get me, get me, on the floor, DJ what you, what you waiting for."
[Watch Video]
Yes, no surprise here... but the
QUEEN
of
POP
Britney Spears took the #1 spot for my favorite song of 2011. This is without a doubt one of Spears' best tracks she's ever had. It's a pop song that only a queen could take on. Spears' looks flawless in the music video and her vocals sound great on the track. It will get any listener (whether they're a fan or not) to get up and dance till the world ends... so with that said, lets start dancing until December 21st, 2012... since the world is ending and all.
Click here to listen to my top songs of 2011 on SPOTIFY!